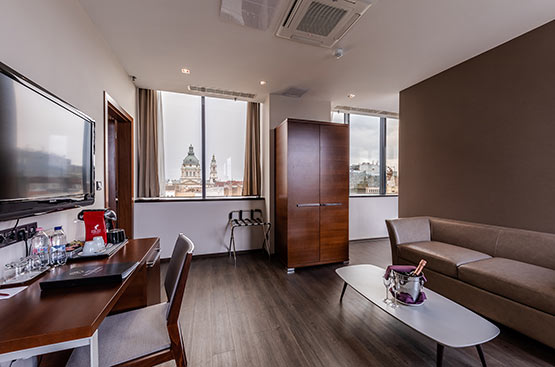 Hotel Home Office, Hotel President
Life is all about combination nowdays! At Hotel President we offer you a hybrid experience: a junior suite, where we combine the comfort of a hotel room with facilities of an office!
You can also enjoy our services before or after work: get rid of stress in our gym- relax in our sauna-or have an afterwork cocktail on our rooftop terrace!
Should you do over-hours we invite you for a free night stay included in the monthly-fee, which is HUF 200.000.-/month*:
Our package includes:
free and secure WIFI, free printing up to 20 pages daily
daily cleaning of the room where tea-and-coffee making facilities are available
Above mentioned offer is also available for daily or weekly rent at the following prices:
daily fee: HUF 25.000
weekly fee: HUF 100.000
monthly fee: HUF 200.000.-
On the top we offer you below benefits at discounted extra cost:
breakfast every morning served in the room or in our restaurant
business lunch in our Restaurant or room service
*1 free night is only available in case of monthly rental